SYMBOLS - HISTORICALFLAGS

WHICH ARE THE HISTORICAL FLAGS?
On this page, we have displayed all the known flags from our nation's past. Flags from the Mauretanian Empire and the Republics of Brolecia and Extremo.
THE EXTREMAN NATION
Flag of the old Extreman Nation, which lasted from 2400 BP to arround 10 AP. A horizontal tricolour of orange, black and green, the traditional Extreman colors. It's ration is 1x2.
THE MEZAPATANI PEOPLE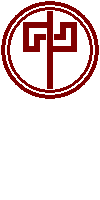 Flag of the Mezapatani People. A 2x1 flag, with it's seal on the upper half.
THE MAURETANIAN EMPIRE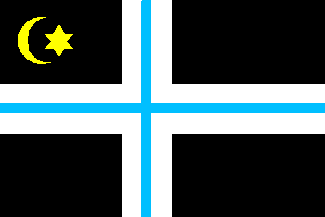 Black field, a white cross overcharged by a thin blue one, golden crescent and six-armed star on the upper-left quarter.
THE MAURETANIAN ENSIGN
Similar to the Imperial flag, but with the cross arranged in a nordic-like way.
THE FEDERAL REPUBLIC OF BROLECIA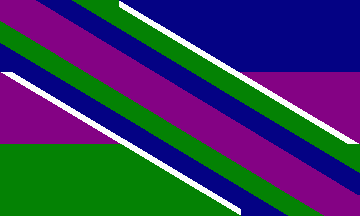 The Brolecian flag was made of a horizontal tricolour of blue, purple and green. Overcharging it, seven thin diagonal bars of white-green-blue-purple-green-blue-white. Like all Brolecian flags, it's ratio is 36x20.
THE BROLECIAN STATE OF BAJAPEZ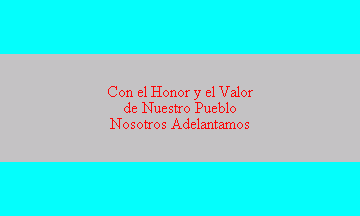 An horizontal tricolour of light blue, grey and light blue. On the grey stripe, the state's motto in archaic Spaneesh: "Con el honor y el valor de nuestro pueblo, nosotros adelantamos", which translates to "We shall walk with our people's honor and virtues".
THE BROLECIAN STATE OF GUETASO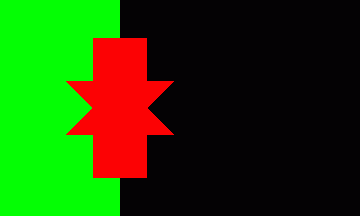 Between two green and black vertical bars, a traditional device made of two red arrows defacing each other.
THE PEOPLE'S REPUBLIC OF EXTREMO
The People's Republic of Extremo's flag had a very strange pattern. On a black field, a green saltire, overcharged by an orange cross. On it, a red bar, showing an image of the same flag. Like all Extreman flags, it's ratio is 36x20.
THE EXTREMAN STATE OF BÄSQA
Horizontal tricolour of cyan, purple and cyan, diagonally divided, counterchanged.
THE EXTREMAN STATE OF ÇÂNAQÙLETRY
Red and green areas, diagonally divided.
THE EXTREMAN STATE OF EXTRËMA
Seven horizontal yellow and blue stripes. On the canton, the Extreman flag.
THE EXTREMAN STATE OF LESÖMOÇ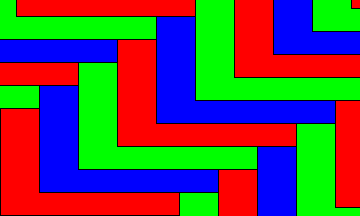 Like some Extreman flags, this one also has a strange pattern, found on local craftwork.
THE EXTREMAN STATE OF OLLÏ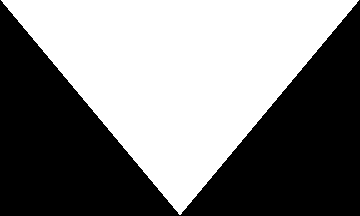 On a black field, an white triangle.
THE EXTREMAN STATE OF PÈTYTÖ A pattern made of cyan and yellow triangles.
THE EXTREMAN STATE OF PÌQACHÜ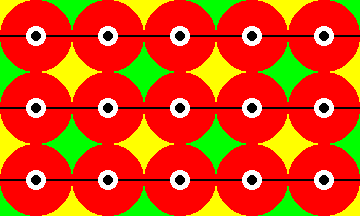 On a checkered green and yellow field, three rows of five red circular devices.